As the place where you spend a third of your life sleeping, your bedroom should be an inviting, comfortable and practical space—a combination difficult to achieve if your bedroom lacks suitable storage.
Balancing aesthetics with functionality, storage beds allow you to stow your items while maximising the limited floor space. Perfect for storing bulky items including blankets, quilt covers, throws and pillows.
Inspired by our award-winning modular sofas with hidden storage, the KING range of contemporary storage beds feature our innovative steel frame for durability and are customisable in your choice of premium fabrics or luxury European leathers.
In this article, we will compare our three storage beds – Jasper, Serenade and Promenade – in style, customisation, price and drawbacks.
After comparing these three designs, you will be able to make an informed decision about whether or not a KING Storage Bed is right for your bedroom.
KING Storage beds
Before comparing the different designs, it is important to know all KING Storage Beds share some common features.
All KING storage beds feature:
An engineered steel frame for comfort and durability

A

gas-lift hydraulic system

that effortlessly raises the bed to access the storage

Customisable covers available in over 200 premium fabrics and luxury European leathers

Tailored covers can be removed or replaced for cleaning or a whole new look
Additionally, all KING Storage Beds raise to a comfortable and ergonomic bed-making position with easy access to all sides of the bed.
Our storage beads are compatible with various gas struts to accommodate the different mattress weights. When you purchase a storage bed, the frame is equipped with the appropriate gas struts to support the weight of the mattress. If you purchase a heavier mattress, you may need to fit your bed with different gas struts with a higher weight capacity.
Something to be mindful of when considering a storage bed is they are heavier than non-storage beds and difficult to manoeuvre. If you move home regularly this is something to consider as you will need to disassemble your bed to transport it.
Jasper Bed
Taking inspiration from the renowned and beloved Jasper Sofa, the Jasper Bed delivers exceptional comfort while embracing modular flexibility.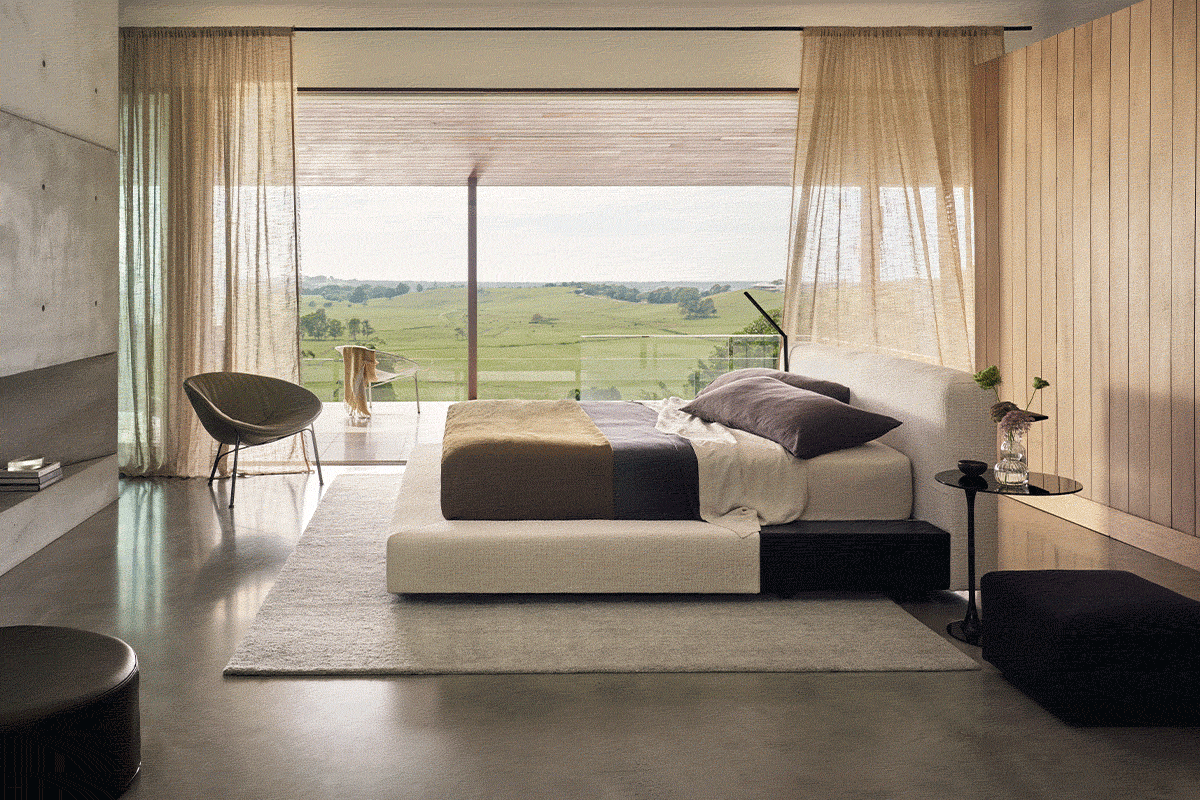 Jasper features timber shelving and hidden storage integrated within the grand footprint of the bed platform.
Style
Low and generous proportions give Jasper a relaxed resort feel, while hidden storage and clever details preserve the essence of the innovative Jasper Sofa concept.
Built upon a wide bed base featuring luxuriously plush edges, Jasper's generous proportions are effortlessly balanced to bring flow and cohesion to the space.
With integrated side shelves, an innovative design and under-bed storage, Jasper negates the need for bedside tables or lamps. Optional Smart Accessories, including the Smart Lume Lights, swivel tables, and wireless charging, can be integrated into your Jasper design.
Key features
The innovative and considered design of the Jasper Sofa translate into the bedroom with the Jasper Bed.
Jasper features integrated timber shelves, which bring warmth and functionality to the space, while optional Smart Accessories allow you to customise the bed for optimal comfort.
Optional integrated Smart Accessories include:
Lume Light

Wireless charging

Additional swivel tables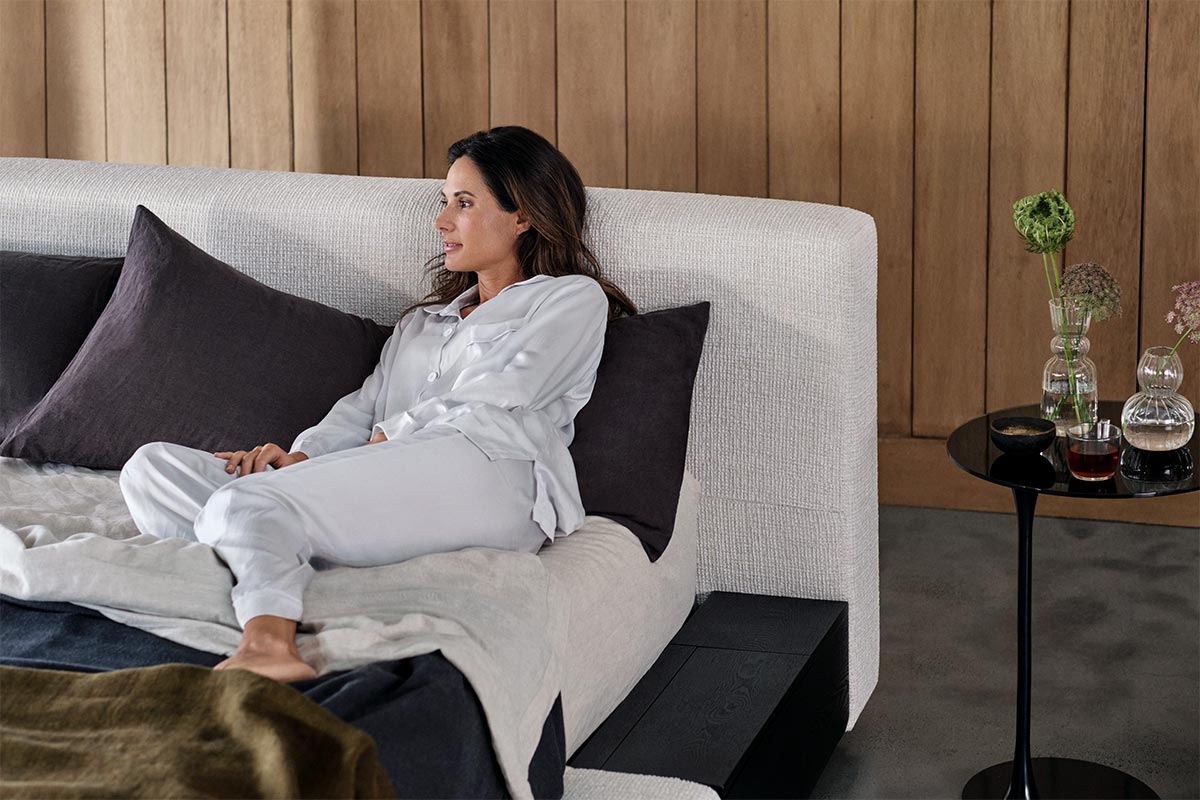 Jasper is featured above in the Whiteley Riverstone material and Congo timber veneer.
Price
As Jasper is a customisable storage bed, the price is displayed as a starting price. Different materials cost more than others, and optional integrated accessories will influence the final price of your Jasper storage bed.
Visit the product page to discover the full range of Jasper Storage Beds, material options and prices, including any sales or promotional offers.
Why the Jasper Bed might not be right for you
Jasper's overhanging bed base has a grand footprint that may not suit small interiors. The large design is something to take into consideration when deciding if Jasper will suit your bedroom.
Additionally, the King size bed may not fit in some elevators or through small stairwells. If you live in an apartment and are considering buying a Jasper Bed, we may recommend an access check to ensure the bed frame can be delivered to your home.
Serenade Storage Bed
Pairing a tufted bedhead with a sleek base and low profile, the Serenade Storage Bed is simple yet sophisticated.
Bringing luxury to your space, Serenade is characterised by the impeccably tufted bedhead.
Style
Distinguished by the impeccably tufted bedhead, Serenade brings a traditional aesthetic and grand-scale elegance to your space.
Combining comfort and functionality, the deep tufting on the wrap-around pillow headboard provides the perfect support for lounging and reading before drifting off to sleep.
With a sleek bed base and grounded profile, Serenade is beautifully simple and gracefully conceals the hidden storage. Embracing a traditional aesthetic, Serenade is designed to bring comfort and cohesion to all interiors.
Key features
Completely customisable, you have the choice of a standard headboard or grand headboard. The Serenade Grand Storage Bed accommodates thicker and extra plush mattresses including the Sleep+ Mattress 8000 or Sleep+ Mattress 9008.
You have the flexibility to tailor the bed frame in an elegant timber veneer finish, available in American Walnut, Smoked Oak and Congo. Alternatively, you can customise your Serenade in a soft material finish.
Creating depth and layers with different textures, Serenade is paired with Monument Tables.
Price
Visit the product page to discover the full range of Serenade Storage Beds, material options and prices, including any sales or promotional offers.
Why the Serenade Storage Bed might not be right for you
Embracing classical elegance, Serenade offers a traditional aesthetic. While the design is beautifully simple, Serenade may not be right for you if you are looking for a contemporary design.
While you have the option to tailor the bed base in timber veneer, the edges are harder and sharper than the material finish, which is something to be mindful of if you are prone to bumping into things or have small children.
Promenade Storage Bed
The Promenade Storage Bed achieves a sleek and contemporary aesthetic by pairing a soft and seamless bedhead with the same upholstered bed base and profile as Serenade.
The simple gas-lift system allows you to easily access Promenade's hidden storage compartment.
Style
Engineered to bring refined and minimal elegance to your bedroom, Promenade features a luxuriously smooth upholstered bedhead with crisp tailoring.
The low profile and contemporary silhouette achieve a grounded look while the bedhead provides soft cushioned support for lounging and reading.
The key difference between Serenade and Promenade is Serenade features a tufted bedhead and Promenade features a sleek streamlined bedhead. A design choice that brings more contemporary flair to your space.
Key features
The Promenade Collection features Promenade Grand. Designed with extended headboard, Promenade Grand caters to customers with extra plush mattresses including the Sleep+ Mattress 8000 or Sleep+ Mattress 9008.
The Promenade Bed is available in a grand headboard design to accommodate thicker and plusher mattresses.
Price
Visit the product page to discover the full range of Promenade Storage Beds, material options and prices, including any sales or promotional offers.
Why the Promenade Storage Bed might not be right for you
If you are thinking of buying the standard Promenade Storage Bed, we recommend measuring your mattress height as the low-profile headboard may not sit high enough to accommodate an extra plush or thick mattress.
Featuring a higher bedhead, Promenade Grand costs more than the standard size Promenade Bed. While the higher design accommodates thicker mattresses and achieves a grander look and feel, the additional cost is something you may need to consider.
Additionally, if you purchase the standard Promenade Bed and later update your mattress to a plusher design, the new mattress may not aesthetically suit the bed.
Creating your sleep sanctuary
The place where you relax and sleep, your bedroom is your sanctuary. And, as a sanctuary the space should be inviting, functional and comfortable.
For those who live in a small apartment or are just struggling to find the space to store their belongings, a storage bed will help bring organisation, comfort and functionality to your bedroom. To complete your sleep sanctuary, Style Director Kerrie-Ann Jones says to fill your bedroom with functional-timeless designs and a comfortable quality mattress.
Having compared KING Storage Beds on style, customisation, price, and drawbacks you can make an informed decision on which design is best for your space. Remember, the perfect storage bed will suitably fit your bedroom, fall within your budget and anchor the space while meeting your comfort and functionality needs.
If you are ready to customise the perfect storage bed for your sleep sanctuary, you can visit a KING Showroom, shop online, or book a consultation to speak with one of our experts who can assist you with designing your storage bed.
If you feel a storage bed isn't right for you, you can view our full range of customisable beds in our Bedroom Collection.