If you love entertaining your friends and family, your dining space likely takes pride of place in your home.
While many say the kitchen is the most important room in the house, your dining space is the true hub of life in your home. And, as the place where you gather with friends and family, your dining chairs should be purchased with care and consideration.
The right chairs bring comfort and harmony to your space, but the wrong ones can create discord and make for an uncomfortable experience.
At KING, we understand searching for the right Dining Chairs can be overwhelming. Along with a seemingly endless range of options, you also need to consider size, colour, shape, materials and several other factors.
In this article, we will discuss some of the most important factors to consider when looking for the right dining chairs for your home.
After reading this article, you will know how to choose the right dining chairs for your space and make an informed decision.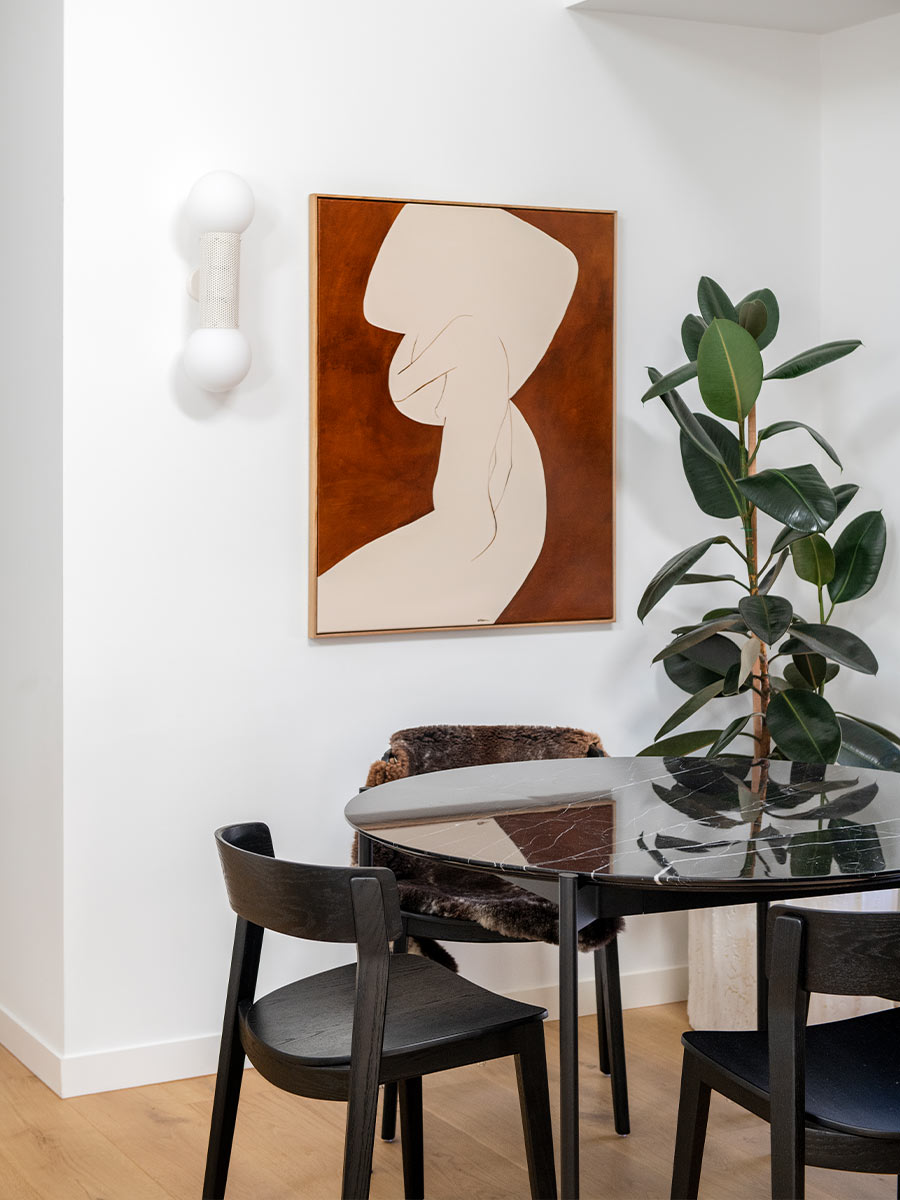 The Amara Dining Chairs in Congo paired with the Eto Dining Table.
What size and height should your chairs be?
Aesthetics aside, your dining chairs need to fit your space.
For comfort and function, your dining chairs should fit neatly under your table without legs feeling cramped or armrests scrapping against the tabletop.
The standard height of a dining chair seat is 43 to 50 centimetres (17 to 20″), and the average height of a dining table is between 71 to 81 centimetres (28 to 32″). These measurements are important as your chairs should comfortably fit under your table and give guests enough space for their legs.
Allow a minimum 20 to 30 centimetres (7.8 to 11.8″) from the seat to the tabletop and avoid overcrowding your table with too many chairs.
While the number of chairs will depend on your table size, you should aim to position each chair 15 centimetres (6″) apart. This gives guests enough eating space and elbow room. The spacing between each chair also avoids chairs bumping together or making the table look overcrowded.
Even the most beautiful and comfortable chairs can look out of place if the proportions don't suit the scale of the table or dining space.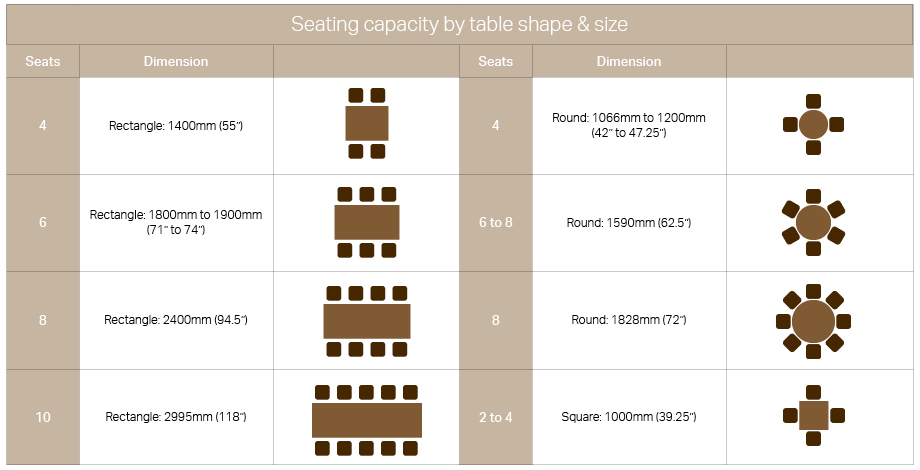 What style suits your space?
Does the chair material have to match the table?
Can I pair fabric chairs with a wood table?
Should the chairs have arms or is armless better?
Our Showroom teams get asked these questions regularly and ultimately it will depend on your table and space.
As there is a plethora of dining chair styles available, we recommend looking through Instagram, Pinterest and interior design websites for inspiration. Save photos or create a mood board of the styles you are most drawn to, and this will help you decide on the style you want to achieve.
In decades past, dining rooms sat unused and separated from the rest of the house. Often reserved for special occasions, traditional dining rooms featured a wood dining table with matching wood chairs. By contrast, contemporary dining spaces are open and relaxed—two key factors influencing modern dining chair designs.
Four Quay Dining Chairs sit around the Issho Dining Table, each spaced apart to leave a comfortable space between guests.
KING Brand Ambassador, Neale Whitaker says while the affinity for a separate dining room has declined, our needs for a comfortable dining space has not changed.
In more recent years, our predilection for open-plan living has seen an end to traditional dining rooms, but the dining 'zone' remains an important focus of contemporary floor plans," explained Neale.
"We require our dining spaces to be comfortable and practical, but we also need them to work in with our home décor, not stand separate as islands of formality. In simple terms, our dining spaces need to look good both on- and off-duty."
If your dining space and table are small, consider armless chairs or only position dining chairs with arms at the head and foot of the table to save space.
If your space is small, you may also wish to avoid extremely high-backed chairs as these can restrict visual flow and make the space feel small. However, if you regularly work from home, dining chairs with a standard back, such as the Amara Dining Chair or Quay Dining Chair, will be a better choice than a backless chair, bench seat or stool.
Featured above in Whiteley Osprey, Quay Dining Chairs are available with arms or in an armless design.
What material suits your lifestyle?
Selecting the right dining chair material involves considering price, durability, maintenance, and lifestyle factors.
Consider how you will use your dining space and how often you sit on your dining chairs. Is your dining space just for eating meals and entertaining friends, or will you sit there for long hours when you work from home?
If your dining chair will double as your office chair, a material design with a high back might be a better choice than a low-back wood chair.
"Think about what you really need for your lifestyle...If you love to entertain, then the size of the dining table and choice of chairs is significant. The right furniture enhances our daily lives, but it requires realistic assessment of what we need from it and how we're going to use it." says Neale.
If you have young children, you may benefit from wood chairs as wood is relatively low maintenance and easy to clean—especially when it comes to spilt juice or dropped food.
Curating your perfect dining and entertaining space
When designing a dining space, people often first think of the dining table, but your dining chairs are equally important as the table they tuck under.
The perfect dining chairs will suit your lifestyle, bring functionality and style to your space and are made to last a lifetime of meals and memories. These are some key factors to remember when searching for your dining chairs.
The Amara Dining Chairs in Congo are paired with the Issho Dining Table.
While style, material and size are important considerations, you should prioritise comfort. For your dining chairs to be perfect for your home, they need to be comfortable. Visiting Showrooms and sitting on the chairs in person will allow you to determine if the design meets your comfort needs.
Testing the chairs in person combined with the above information will help you make an informed decision.
For cohesion and balance in your dining space, consider pairing your KING Dining Chairs with a KING Dining Table. If you need some advice on how to choose the right dining table for your space, read our dining table guide or dining table comparison.
Shop the story