Produced in partnership with Real Living.
Style by design - Beautiful furniture will elevate an interior, particularly when you get the shape, style and size right.
An inner-city couple make the most of compact living by creating flow and expansiveness with thoughtfully placed pieces in soothing neutral hues.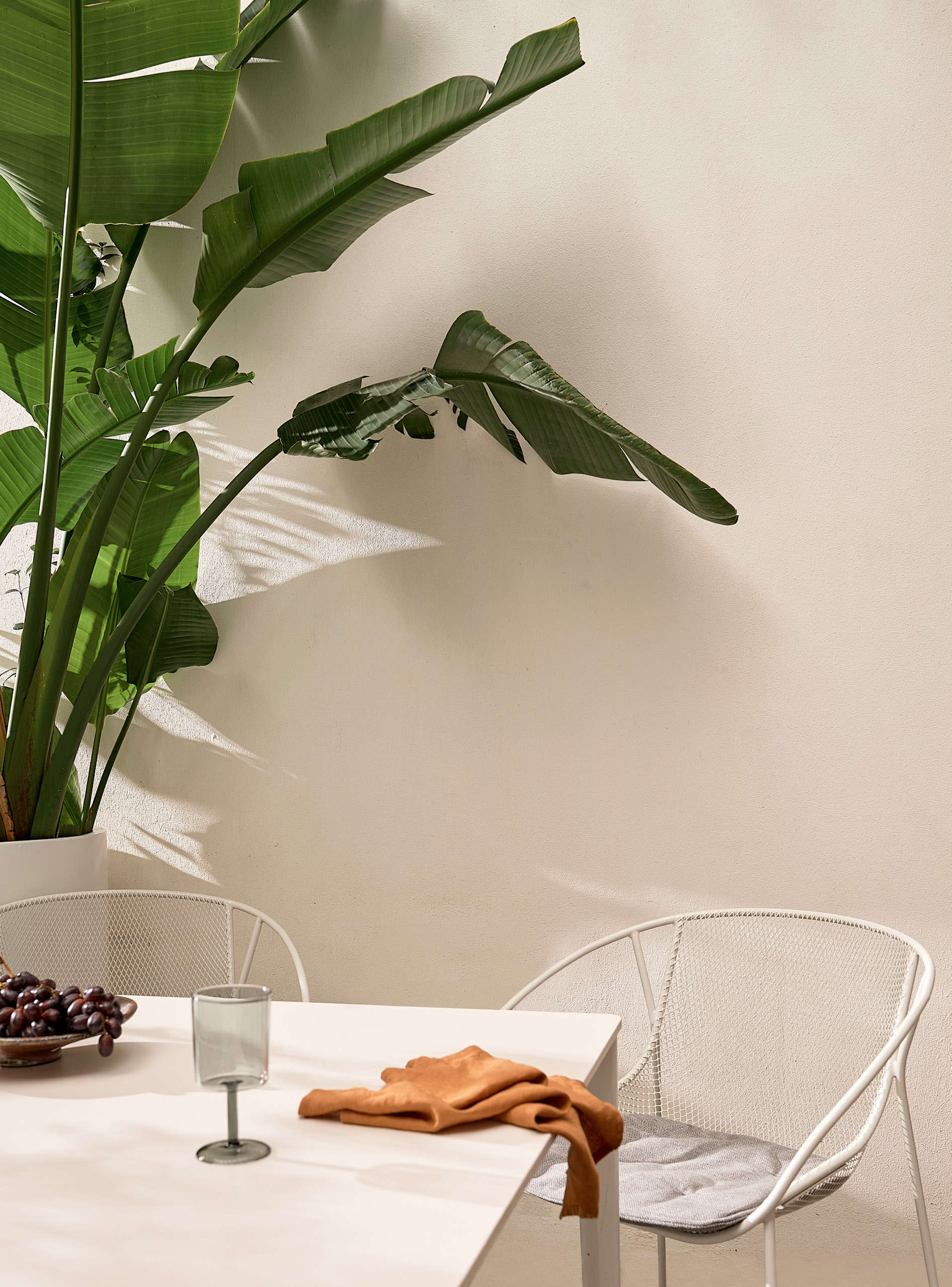 Alfresco living Outdoor furniture in light colours and mesh constructions will lend a light and airy feel. Featured above, the Quay Ceramic Dining Table , and the Luna Outdoor Chair .
How to choose furniture for a compact space
When choosing a sofa, always measure the depth as well as the length as this will impact how much room you have to walk around it.
Round tables – both dining and coffee – will allow for more flow within a room. No more bumping into corners because space is tight.
Look for pieces that do double duty, such as a sofa or bed with built-in storage.
Outside, choose chairs made from mesh or perforated metal to suggest a sense of visual lightness.
Keep your colour and materials palette tight so the overall scheme feels harmonious.
Measure your doorways, too! There's no point in buying your dream sofa/table/bed if you can't get it into your home.
Face-off furniture
In smaller living areas, furniture arrangement is key. Choose a modular design that you can add to, such as the Delta Sofa: facing each other they create a more conversational setting but add a chaise and you'll have a more relaxed, TV-watching arrangement.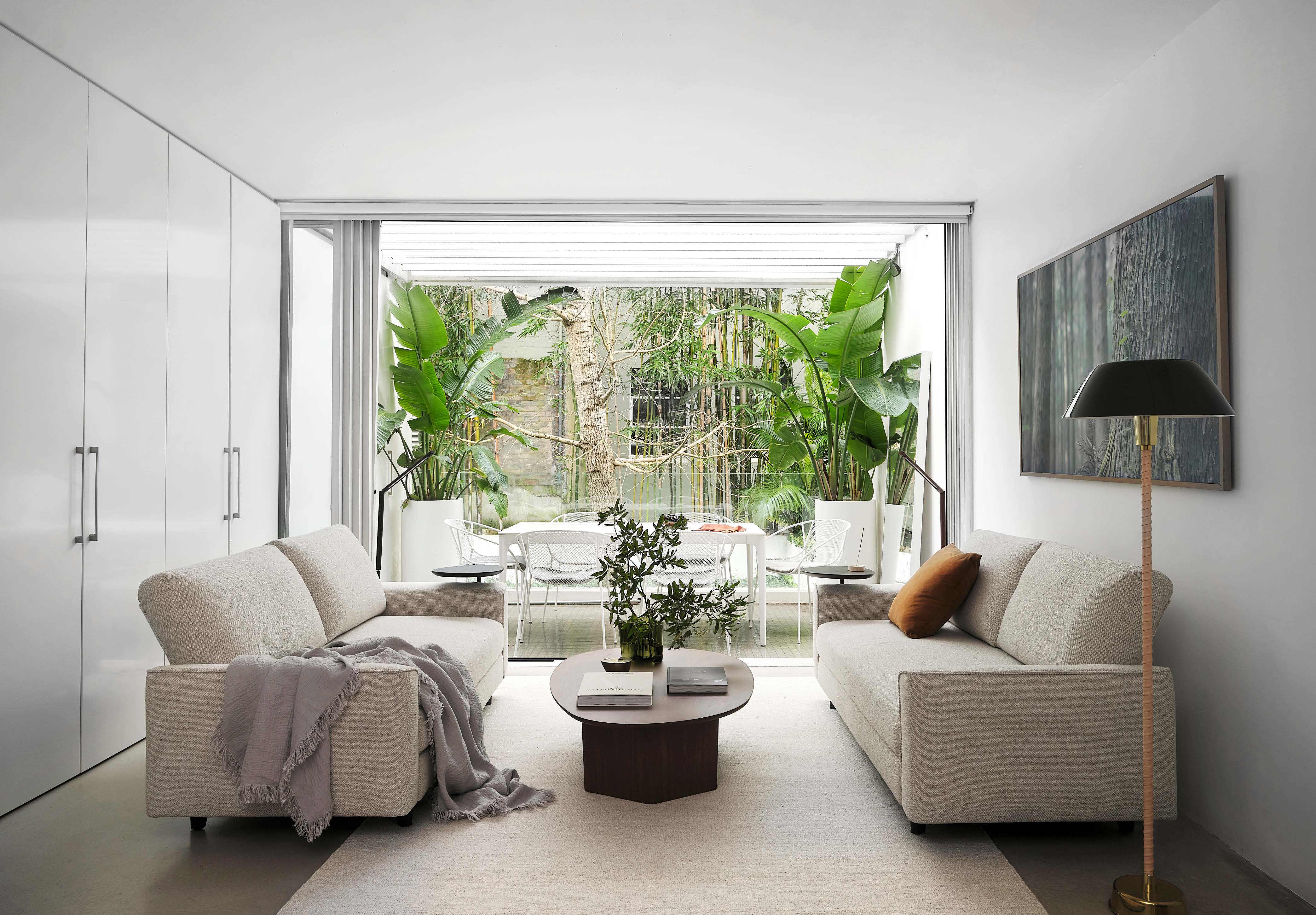 Featured above, the Issho Coffee Table, Marion Rug, and two Delta Sofas with Lume Smart Lights and Smart Crescent Charge Tables.
Go with the grain. Walnut timber finishes work beautifully with both light and dark interior elements.
"Our home is really contemporary, so we went with organic shapes in the tables and mirror to add softness," says Mattia
Featured on the left, the Canyon Round Dining Table, Amara Dining Chairs, the Quay Console, and Marion Rug. On the right, the Dainelli Roma Sideboard in American Walnut.
Compact living doesn't have to mean compromise, as Mattia and Josh's serene one bedroom home on the edge of Sydney's CBD attests. When the couple and their two cats moved into the apartment several years ago, they knew that they wanted to create a peaceful atmosphere that also lent itself to entertaining.
Mattia loves cooking, so creating areas that were conducive to dining was of utmost importance: inside the couple has utilised the flexibility of a round table that allows for flow around the dining space. For the living area, the couple opted for sofas, in calming neutrals, that face each other. "We love that with a modular sofa, you can change the arrangement. Our old sofa was set up in an L-shape but for this space we really wanted a pair of two-seaters, so we took the chaise off," Mattia says.
"I also love that they have built-in side tables – there's always somewhere to put your drink."
And, with the living area opening up completely to the leafy balcony, the pair have been able to optimise this space for indoor-outdoor entertaining. A rectangular all-weather table, larger than the dining table indoors, is perfect for hosting more guests when the weather is warm.
Material world
"We love a sophisticated neutral colour palette," Mattia says. "Our kitchen surfaces are travertine, so it made sense to play with lighter and darker earthy tones in our furniture such as the walnut-finish timber dining setting and cream upholstery. Outside we chose furniture and planters in all white to impart a relaxed holiday feel. Plus, it makes the greenery in the courtyard really come to life."
Brought to you by Real Living, Dave Wheeler (@dave_wheeler for photography), Corina Koch (@corina_kosch_stylist for styling) and Bron Bates (@bronbates for the words).
Shop the story